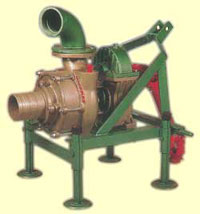 TRACTOR DRIVEN WATER PUMPS
Tractor Powered Portable Centrifugal Pump

These water pumps are available single and two stage and are powered by the tractor PTO shaft. They obtain a suitable speed to the engine via the attached gearbox. It comes with a three point linkage frame. The pumps are sold complete with suction hose coupling, frame, bent tube (mounted discharge casing) and PTO shaft.






| | | | | | |
| --- | --- | --- | --- | --- | --- |
| Model | 65-R1 | 64-R2 | 80-R2 | 100-R1 | 150-R1 |
| | | | | | |
| Suction Diameter | 3" | 3" | 4" | 5" | 6" |
| Discharge Diameter | 2.5" | 2.5" | 3" | 4" | 6" |
| Speed | 2900rpm | 2900rpm | 2900rpm | 2700rpm | 2000rpm |
| Total Head | 40m | 70m | 90m | 50m | 40m |
| Capacity (l/hr) | 60,000 | 45,000 | 70,000 | 120,000 | 250,000 |
| Capacity (l/min) | 1000 | 750 | 1166 | 2000 | 4166 |
| Capacity (gal/hr) | 13,200 | 9900 | 15,400 | 26,400 | 55,000 |
| Power | 14hp | 22hp | 35hp | 30hp | 48hp |
| Approx Weight | 130kg | 142kg | 155kg | 147kg | 178kg |
- PLEASE CONTACT US ABOUT ANY OF THE ABOVE MODELS -