SAND PUMPS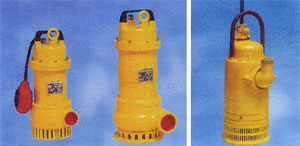 Submersible pumps suitable for removing sandy water for example when draining foundation trenches. The Super Sand Pump is also suitable for sludge, crushed material, clay etc. Both are of heavy duty construction.

The standard Sand pump housing is cast iron with an open type double channel impellor in cast iron. Oil bathed motor. Shaft is stainless steel. They are single phase and have a built in capacitor and motor protector.

The Super Sand's body is aluminium alloy with open type multi-channel impellor in special wear resistant hard steel. The diffuser is rubberised to improve abrasion resistance. The shaft is chromed anti-rust steel. This three phase pump must be protected by a fused remote isolator switch.
Model

HP

Discharge
Diameter

Volts

l/min
at 2m

l/min
at 6m

l/min
at 10m

l/min
at 14m

l/min
at 20m

l/min
at 25m

100

1

1.5"

230

315

220

100

200

2

2"

230

510

420

295

150

Super
400A

4

3"

400

700

600

400

70
- PLEASE CONTACT US ABOUT ANY OF THE ABOVE MODELS -